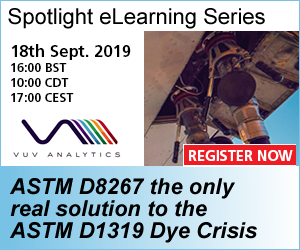 When:
September 18, 2019 @ 10:00 am – 11:00 am
2019-09-18T10:00:00-05:00
2019-09-18T11:00:00-05:00
With the December 2018 revelations that the dye used to carry out referee method ASTM D1319 for Jet Fuel analysis is no longer available; refineries and test labs are forced to look at alternatives for this analysis.  Have you made an informed decision on how you will replace ASTM D1319?  Are you concerned about the costs associated with moving to an alternative approach?
Recently ASTM D8267 was approved as a standard test method for jet fuel analysis.  This method runs on the VUV Analyzer™ Platform for Fuels and has significant advantages over the currently available options. This webinar will provide a detailed overview of the operation and advantages of ASTM D8267 – The Standard Test Method for the Determination of Saturated Hydrocarbon, Aromatic and Di-aromatic Content of Aviation Turbine Fuels using GC-VUV.  In addition to ASTM D8267, this webinar will introduce the VUV Analyzer Platform, which is currently used to run ASTM D8071 for gasoline analysis, and provide important details on accuracy, precision, and how laboratories can reduce analysis cost using this platform.
Key Learnings:
Introduction to ASTM D8267 for jet fuel analysis and its correlation to alternative methods.
Introduction to the VUV Analyzer Platform for Fuels – a single platform for fuels analysis.
An update on ASTM D8071, including the recent ASTM D6708 equivalency to D5769, D1319, D3606, & D5599.
Introduction to Verified Hydrocarbon Analysis™, an elevated approach to Detailed Hydrocarbon Analysis – which can also be done on the VUV Analyzer Platform.
How laboratories can reduce the cost per analysis using the VUV Analyzer Platform.
Speakers:
Alex Hodgson, Acting Applications Manager, VUV Analytics
Alex Hodgson is currently the acting manager and senior applications chemist at VUV Analytics, Inc.   Alex has been instrumental in the development of ASTM D8267 and other fuels related methods for VUV.  In addition to his fuels work, Alex also pioneered GC-VUV analysis of terpenes across multiple industries.  Prior to joining the VUV team, he spent four years as a chemist with the Center for Disease Control (CDC).  Alex earned a B.S. in biochemistry from the University of Texas at Austin and an M.S. in biochemistry at the Georgia Institute of Technology.  His current research focuses on utilizing vacuum ultraviolet detection for the development of fuels analysis applications among a variety of other GC-VUV related endeavors.
Dan Wispinski, Standard Methods Development Manager
Dan Wispinski is the Standard Methods Development Manager for VUV Analytics.  Dan joined VUV after he managed one of Canada's top fuel testing research labs, InnoTech Alberta, formerly Alberta Research Council.  Dan has over 36 years of experience in refined fuel specifications, biofuels, crude oil and bitumen.  He is chairman of the Canadian General Standards Board Petroleum Test Methods Committee and an active member of ASTM, CGSB, IASH, CEN and the Energy Institute Working Group 6.