Life Science
VUV spectroscopy can characterize water and solvent in API in the same run. VUV spectroscopy offers high sensitivity and unique selectivity for the detection of API contaminants such as aldehydes.
Known advantages of VUV Spectroscopy
The ability to analyze water and residual solvent in API in the same run
The capability of characterizing isomeric impurities without need for chromatographic baseline resolution
Instrument and software designed for scaling from R&D to production
Intuitive data processing workflow and software automation remove analytical complexity
Process operators and laboratory technicians can run and analyze samples with minimal oversight
Easy to understand analysis by Beer-Lambert Law (same principle used in UV-Vis spectroscopy)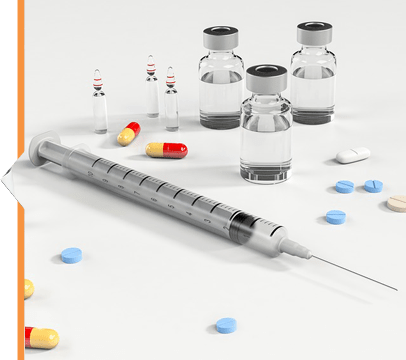 Solving Analytical Challenges in Life Science
Key Features of VUV Spectroscopy
High degree of data analysis automation reduces human error
Intuitive spectral fingerprint compound identification and Beer's Law quantitation eliminates guesswork
Software deconvolution of co-eluting analytes allows chromatography runtimes to be deliberately compressed
Proprietary algorithms automate compound class characterization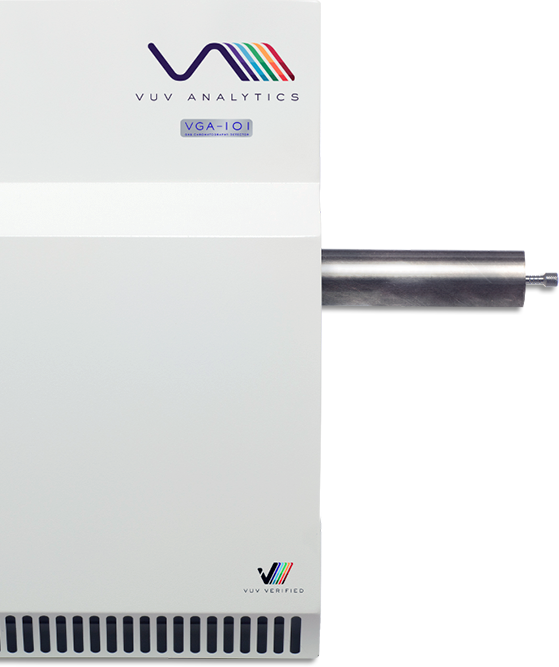 Shining a new light in gas chromatography and streaming gas applications.
Everything absorbs strongly in the VUV spectrum. Compounds can be unambiguously identified and quantitated in a variety of applications including oil & gas, forensics, fragrances & flavors, petrochemical, environmental, and life science. VUV detectors provide unmatched selectivity of isomers and co-eluting analytes without the need for chromatographic baseline resolution.  Unlike legacy detection methods, VUV spectroscopy allows for more automated analysis with lower risk of errors, shorter chromatography run times, and higher analytical throughput.
Universal, yet selective detector with very sensitive spectral response
Easy deconvolution and quantitation of co‑eluting analytes
Robust technology with no reliance on vacuum pumps
No calibration required – 1st principle detection technique provides a predictable linear response
A non-destructive technique that compliments mass spectrometry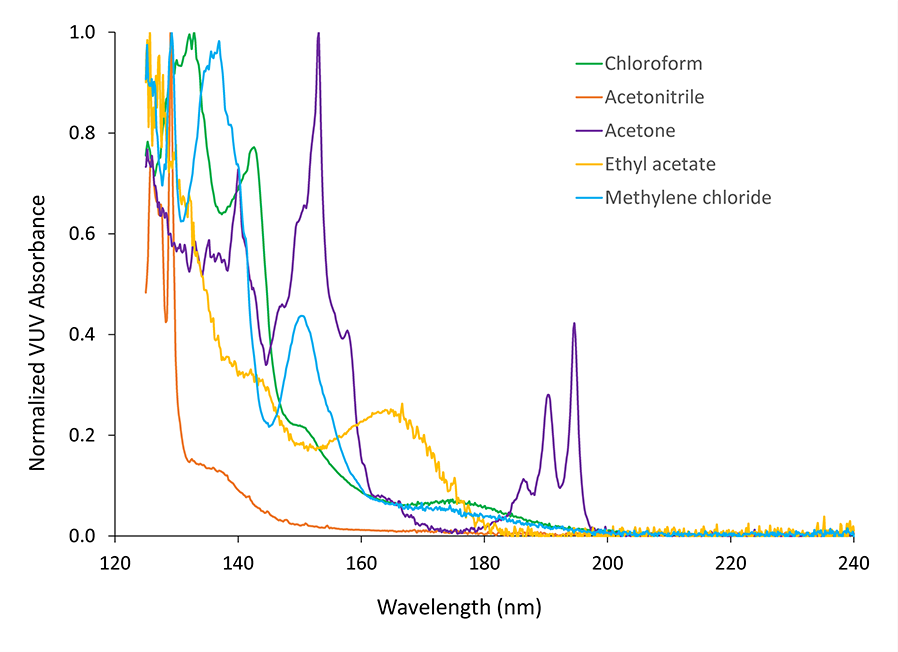 Solvents
"The VUV detector has proven itself with the ability to distinguish olefins and aromatics from aliphatics – that's a killer application given the complexity and time involved using any other technique. The VUV detector's ability to perform a more accurate and much more robust PIONA analysis is an important milestone in its ongoing success."

Bill Winniford, Fellow

Bill Winniford, Fellow, The Dow Chemical Company, Houston, Texas, USA

"VUV spectroscopy adds a dimension that is complementary to mass spectrometry, offering selectivity that is difficult to otherwise obtain."

Hans-Gerd Janssen, Professor and Science Leader

Hans-Gerd Janssen, Professor, University of Amsterdam, and Science leader, Unilever Research Vlaardingen, the Netherlands

"One of the main advantages of VUV detection for us appeared to be the ability to gain more specific molecular information…co-elutions that we know exist but cannot be identified with FID can be unraveled."

Pierre Giusti, Molecular Separation & Identification Service Manager, and Gaelle Jousset, Gas Chromatography Laboratory Manager

Pierre Giusti, Molecular Separation & Identification Service Manager, and Gaelle Jousset, Gas Chromatography Laboratory Manager, Research & Development, TOTAL Refining & Chemicals, Normandy, France

"The VUV detector will be used as a universal, calibration-free tool that provides the relative quantitative values of distinct molecules in mixtures in a rapid manner."

Luigi Mondello, Chair of ISCC and GCxGC Conference in Riva del Garda, and Professor

Luigi Mondello, Chair of ISCC and GCxGC Conference in Riva del Garda, and Professor, University of Messina, Italy

"One thing that I really like about VUV is that it can be considered a universal detector but with the advantage of being familiar to us. We all used UV spectrometers in school."

Nicholas Snow, Professor

Nicholas Snow, Professor, Seton Hall University, New Jersey, USA

"Eliminates ionization inefficiencies that are encountered in mass spectrometry analysis."

Mark R. Emmett, Ph.D.

Mark R. Emmett, Ph.D. Professor, The University of Texas Medical Branch Galveston, UTMB Cancer Research Center

"An amazingly simple concept extended into a powerful spectral region."

Tim Hossain, Ph.D.

Tim Hossain, Ph.D. Chief Scientist, Cerium Laboratories

"The VUV detector is a powerful new tool in the GC toolbox."

Kevin A. Schug, Ph.D.

Kevin A. Schug, Ph.D. Professor & Shimadzu Distinguished Professor of Analytical Chemistry, The University of Texas at Arlington