Aug
19
Sun
ACS National Meeting & Expo 2018

@ Boston Convention Center - Hall A
Aug 19 @ 5:30 pm – Aug 21 @ 5:00 pm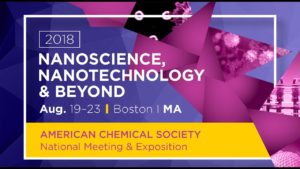 The American Chemical Society is hosting the 256th Annual National Meeting & Exposition, August 19th – 23rd, in Boston at the Boston Convention Center — Hall A.  The theme for this year's event is Nanoscience, Nanotechnology & Beyond.  VUV Analytics is excited to be part of the event as an exhibitor in Booth #510.  Come visit us to learn how GC-VUV can simplify your applications.  Click the link below to learn more about the event and get registered.
Aug
22
Wed
Improving GC Quality & Quantitative Analysis Accuracy & Throughput Using GC-VUV
Aug 22 @ 11:00 am – 12:00 pm

Gas chromatography – vacuum ultraviolet (GC-VUV) spectroscopy is a new technique that monitors molecular absorbance from 125-430nm. This range allows for unique spectral fingerprinting, isomer differentiation, and identification of known coeluting compounds. GC-VUV is an excellent hybrid between flame ionization detection (FID) and mass spectrometry (MS), providing the ease of use of FID and powerful selectivity of MS. In addition, VUV can detect compounds like water that are challenging for other detectors. This lends itself as a useful alternative to techniques like Karl Fischer titration. The extended wavelength range beyond 240nm also allows for selectivity of polycyclic aromatic hydrocarbons (PAHs) and other compounds that absorb in this region. This webinar will showcase examples of the unique features of this new detector, including GC-VUV's ability to deconvolve coelutions for volatile compounds in a blood matrix, accurately detect and quantitate water, and selectively detect PAHs in complex matrices such as engine oil and diesel.
Key Learning Objectives:
Learn about the unique capabilities of the VUV absorbance spectrometer for GC
See examples of how VUV spectral deconvolution improves quantitative accuracy by resolving analyte co-elution
Get more information about the GC-VUV alternative to Karl Fischer for water determination
Watch examples of VUV selectivity for individual compounds such as PAHs
Who Should Attend:
Laboratory analysts, managers, process engineers, and others interested in new GC technology
Scientists and engineers seeking alternative methods for water determination, PAHs analysis, and volatile compound characterization
Aug
26
Sun
AOAC 2018

@ Sheraton Centre Toronto Hotel
Aug 26 @ 9:00 am – Aug 29 @ 5:00 pm

Visit VUV Analytics at both #208 at AOAC's Annual Meeting
This event offers scientific sessions, roundtables, workshops, and poster presentations to meet a variety of analytical needs.  Nowhere else can you find access to this level reliable knowledge.   AOAC brings you science-based research from the top scientists in the world; technical information about changes and advances in methodology; and access to techniques and applications.
Alex Hodgson will be presenting on the following topic, Monday 8/27 in the Chestnut West Room at 5:00PM
Terpenes Analysis of Essential Oils Using GC-VUV: An Automated, Speed-Based Approach
Terpenes contribute greatly to our senses of smell and taste and thus are integral to flavor and fragrance industries.  Current terpenes analysis is performed by GC-FID and GC-MS. However, since many terpenes of interest are isomers, adequate separation is required for accurate identification and quantification, leading to relatively long run times. Vacuum Ultraviolet (VUV) spectroscopy can spectrally distinguish isomers and deconvolve coeluting peaks, which promotes qualitative and quantitative accuracy and allows for significant chromatographic compression. Here we compare the chromatographic compression capabilities of GC-MS and GC-VUV for essential oils analysis, as well as an automated quantitative method for compositional determination.