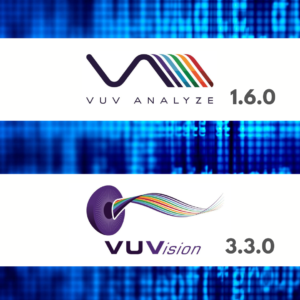 Cedar Park, TX – April 20, 2020 — VUV Analytics™ Inc., announces today a software upgrade release for both of its proprietary software systems: VUVision Software 3.3.0 and VUV Analyze Software 1.6.0.
VUVision Software simplifies GC analysis by providing an intuitive interface for analyte characterization by vacuum ultraviolet spectroscopy (GC-VUV).  This latest version includes many new features that will greatly benefit the customer.  First, it is now possible to integrate third party CDS software (such as LabSolutions or Chemstation) which is used to run your gas chromatograph, to create a sequence and autorun a sequence with VUVision.
A second new feature in VUVision is that VUV Analyze libraries (such as PIONA, jet, and VHA) can now be imported as 'user libraries' in VUVision – this is a huge benefit to customers because now you can add an analyte from your "PIONA" library to use on a regular basis.  Users can edit or add analyte spectra directly into their user libraries.  These libraries are now interchangeable and searchable in VUVision.
VUV Analyze is the powerful post-acquisition platform that quickly analyzes complex chromatographic and spectral data to produce method-specific results and reports. The launch of 1.6.0 offers an entirely new application: Verified Hydrocarbon Analysis™ or VHA™.  VHA is a new application offered for hydrocarbon analysis that can work in tandem with your existing gasoline or jet applications.  All of the VUV Analyze applications come complete with ready-to-export PDF reports for all ASTM methods – ASTM D8071 (gasoline) and ASTM D8267 (jet fuel).
"During this ever-changing global climate, I am pleased that our software team was able to execute these value adding new features to both of our software systems," said Clark Jernigan, CEO, VUV Analytics, "this gives our existing customers immediate additional value to their operations."
To learn more about the new software our how to upgrade your existing software click here or contact your sales representative.
About VUV Analytics:
VUV Analytics manufactures universal vacuum ultraviolet (VUV) spectroscopic detectors that provide a new dimension of chemical analysis accuracy.  VUV light creates unique spectral signatures in the gas phase that result in unambiguous compound identification and quantitative analysis across a wide spectrum of complex applications.  Unlike legacy GC detectors, VUV detection delivers scalable data analysis automation with reduced analytical error and higher analytical throughput.  Learn more about VUV Analytics at https://vuvanalytics.com.