Published Paul Johnson, VUV Analytics on November 1, 2016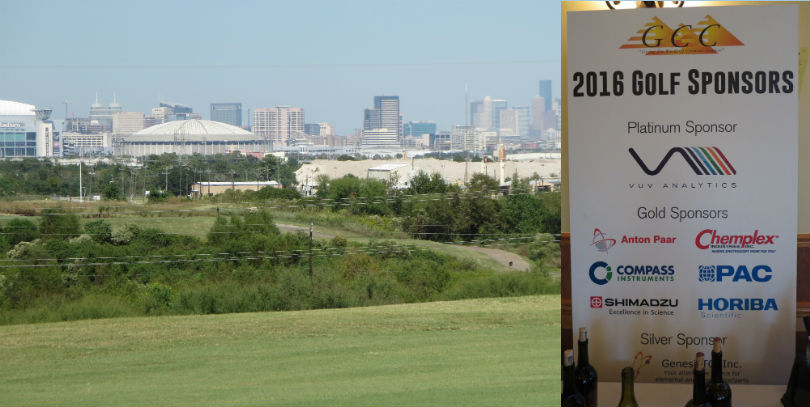 As the calendar turns into November, it's hard to believe that the annual conference took place three weeks ago. This was a memorable year for VUV Analytics due to both our platinum sponsorship of the golf tournament and several scientific talks describing how VUV spectroscopy has been utilized in fuel and environmental applications. The golf tournament that officially kicked off the conference was well attended, and everyone seemed to enjoy the spectacular weather and lively awards dinner that concluded the event. There were five talks and one poster showcasing VUV detection:
A Comparison of GC-VUV and GCxGC-TOFMS for Characterization of Aged Diesel
Authors: Ling Bai, Jonathan Smuts, Jamie Schenk, Jack Cochran, Kevin A. Schug
Determination of fatty ester content in biodiesel blends by GC-VUV
Authors: Kevin A. Schug, Jonathan P. Smuts, Manuel Garbalena
GC-VUV and Time Interval Deconvolution for Characterization of Polychlorinated Biphenyl Mixtures
Authors: Changling Qiu, Jack Cochran, Jonathan Smuts, Phillip Walsh, Kevin A. Schug
Automotive Gasoline Analysis by GC-VUV – A New Proposed ASTM Method
Authors: Dan Wispinski, Jodi Johnston, Chris Goss, Philip Walsh
Semi-empirical VUV spectra model for PIONA compounds
James Mao, Kevin A. Schug
Analysis of Naphthenes using GC with VUV Detection
Authors: Bill Winniford, JC Reyes, Ron Bassie, Eva Tudela, Pascal Pijcke, Melissa Dunkle, Phillip Walsh
Two of these presentations were of particular interest because they demonstrated the impact GC-VUV has had in changing how gasoline compounds are analyzed. For a number of years we've been told about the efficiencies gained by oil refining and petrochemical customers who have added VUV PIONA+ into their analytical workflows. The talks by Dan Wispinski of Alberta Innovates and Bill Winniford of Dow Chemical Company were the first customer presentations of PIONA compound analysis to the Gulf Coast community.
Dan Wispinski provided an overview of the draft GC-VUV ASTM method and compared it to DHA and Reformulyzer. The data he presented showed superior performance by GC-VUV and demonstrates how it is a viable alternative method for gasoline analysis. You can view the presentation by visiting the VUV Analytics Knowledge Base.
Bill Winniford presented a detailed look at naphthenes in the ASTM 5134 standard as an example of how accurately hydrocarbon components can be identified by their VUV spectral differences. The response factors between VUV and flame ionization were also compared. In his conclusion he stated that identification by VUV library search is extremely accurate for compound class and greater than 90% accuracy in identifying exact compounds for C9 and lower.
The VUV team thoroughly enjoyed all of the conversations we had with Gulf Coast attendees during the golf tournament, exhibition, and social hours. We're already looking forward to the continued growth in VUV spectroscopy conference presentations and catching up with everyone next year!