Published Jack Cochran on August 23, 2017
When Lindsey Shear-Laude and I started our method development for residual solvents in pharmaceuticals, one of our goals was to substantially decrease GC run time by taking advantage of the power of deconvolution for vacuum ultraviolet absorbance spectrometry in case of coelutions.  Ultimately, we came up with an 8 min GC run (Figure 1), which saves significant time versus traditional USP GC-FID methods.  But wait-a-minute…  Isn't the USP-specified static headspace sample equilibration time 45-60 min?  That is quite the mismatch in sample preparation and instrument times.  Well, read on…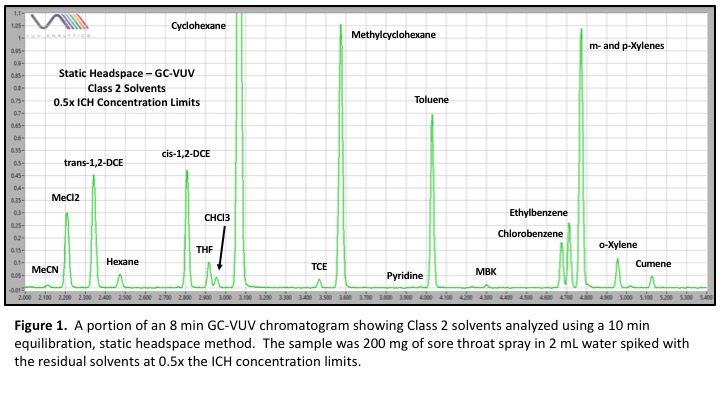 We use the Gerstel MPS2 static headspace system, which provides for rotary shaking and heating to establish quick equilibration for residual solvents between sample diluent and the headspace (Figures 2-5).  Some static headspace instruments do not provide shaking, and that can lead to substantially longer equilibration times.  Longer equilibration times at high temperatures increase the possibility of headspace vial leakage or undesirable solvent-matrix interactions, which led us to match our 8 min GC-VUV run time to a 10-min equilibration time for static headspace sampling.  In fact, the headspace injection is made very shortly after the GC oven reaches its initial temperature.  Perfect timing!
Only in one case when analyzing Class 2 solvents for water-soluble articles did we find our equilibration time significantly "non-equilibrated": Tetralin, the most involatile Class2 solvent (Figure 6).  Even so, if the shorter equilibration times give repeatable data, residual solvent method requirements are easily met.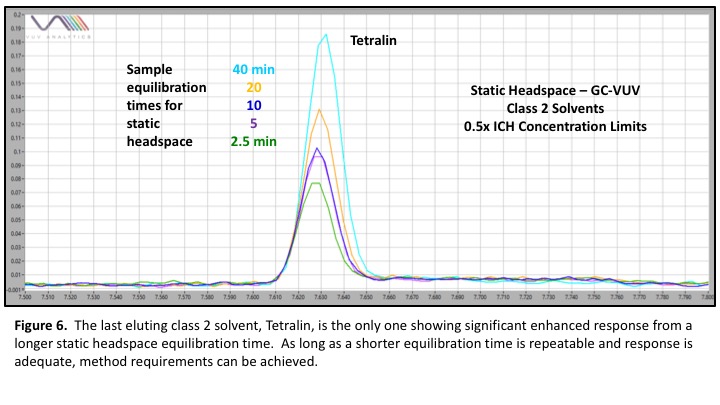 If you want to learn more about static headspace sampling with the Gerstel MPS2, and residual solvents analysis using GC-VUV, check out Lindsey's seminar on Thursday, August 24 at 2 PM (EDT):
A New Method for Residual Solvent Analysis Using Static Headspace – Gas Chromatography – Vacuum Ultraviolet Absorbance Spectroscopy
Other reading on residual solvents analysis using static headspace – GC-VUV.
GC-VUV of Residual Solvents – The Lazy Analytical Chemist
GC-VUV of Residual Solvents – Go with The Flow and Speed Up Your Analyses
GC-VUV of Residual Solvents – No Matrix Effects with the Gerstel MPS2 Static Headspace Autosampler
GC-VUV of Residual Solvents – Non-Target Analysis
GC-VUV of Residual Solvents – Improving Static Headspace Sampling with Water